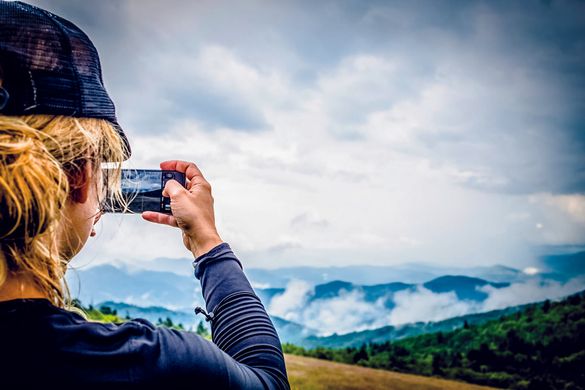 Tennessee Road Trip-General Overview
---
Hit the open road, crank up the radio, take in the beauty and history, explore charming towns, mom-and-pop eateries, hidden gems and adventure that makes Tennessee "The Soundtrack of America." Discover Tennessee Trails & Byways driving tours take you off the beaten path for authentic experiences. Pick up maps at welcome centers and look for the brown signs across the state.
West Tennessee
Trace stories from cotton fields to music legends following West Tennessee's country roads on the Cotton Junction Trail. Explore hidden passages and trapdoors at the Slave Haven Underground Museum in Memphis, used by slaves during their escape for freedom. Visit Casey Jones Village in Jackson, named for the legendary train conductor who gave his life to save his passengers in the early 1900s. Stop by the Old Country Store for downhome cooking or farm-to-table dinner. The Cotton Museum in Bells shows how cotton shaped the area's culture and commerce. Visit the Tina Turner Museum and immerse yourself in blues culture at West Tennessee Delta Heritage Center. See the world's largest teapot collection at the Teapot Museum in Trenton.
The Great River Road Trail is full of history, high bluffs and wildlife. Visit the Chucalissa Archaeological Museum and preserved dig site. Relive WWII history at the Veteran's Museum in Halls on the former B-17 Flying Fortress Training base. Stroll Ripley's town square with its 1930s art deco courthouse. Stop at roadside farm stands cruising Highway 51 and stop at the Lauderdale County Tomato Festival during the summer. Pick your own fruit or get lost in a corn maze at Jones Orchard & Market in Millington, which sells homemade jellies and pies. See Roots' author Alex Haley's childhood home in Henning. Spot a bald eagle at Reelfoot Lake State Park.
On the Walking Tall Trail, learn about the legacy of McNairy County Sheriff Buford Pusser at his home and museum in Adamsville, including the room where Elvis Presley is said to have mourned during the sheriff's funeral. Other spots on the trail include Natchez Trace State Park, Davies Manor Plantation in Bartlett and Hockaday Handmade Brooms in Selmer, where you'll find Jack Martin crafting broomcorn in his shop using methods passed down from his great-grandfather. Stop for a slugburger at the nearby Pat's Café. Walk along the charming Collierville Historic Square, lined with local businesses  – coffee shops, restaurants and bookstores. Walk in the footsteps of legends at Sun Studio.
Middle & West Tennessee
Hike. Canoe. Birdwatch. Fish. Stop in historic towns and learn about Loretta Lynn at her famous plantation home and museum in Hurricane Mills along the Tennessee River Trail. Float the Buffalo River by canoe. Hike and spot rare plant species in Carroll Cabin Barrens State Natural Area. Experience the World's Biggest Fish Fry in Paris, home to a replica of the Eiffel Tower. Sip wine tastings during summer concerts or have dinner at Paris Winery's Italian bistro. Take in breathtaking views of the Duck River Bottoms Overlook. Relax in the remodeled Commodore Hotel in Linden. Listen to stories of Savannah's heritage and Civil War history with a walking tour of the riverside town. Don't miss out on dinner at Hagy's Catfish Hotel Restaurant.
Middle Tennessee
Retrace footsteps of pioneers and discover unique treasures on the Promised Land Trail. Hike and horseback trails at Burgess Falls, Rock Island and Edgar Evins State Parks. Catch live bluegrass every Saturday night at Granville's Sutton Ole Time Music Hour or watch a movie under the stars at Stardust Drive-In in Watertown. Walk through history at Andrew Jackson's Hermitage. See how sweet sorghum is made at Muddy Pond Sorghum Mill and be sure to stop by the general store. Join the locals at Foglight Foodhouse, a Rock Island hidden treasure with an eclectic menu. Enjoy a glass of vino at DelMonaco or Stonehaus Wineries.
Sip and tour distilleries like Jack Daniel, Short Mountain and Prichard's on The Jack Trail. Enjoy shops, restaurants and a century-old courthouse in downtown Lynchburg. Try the Redneck Taco at the original Martin's Bar-B-Q Joint in Nolensville. Tour the gristmill, school house and blacksmith shop in the replica pioneer Cannonsburgh Village in Murfreesboro. Pick up handmade leather goods at Colonel Littleton's in Lynnville. Discover the beginnings of the nickel candy bar at Milky Way Farm in Pulaski. Don't miss the RC MoonPie Festival in the charming historic town of Bell Buckle. Listen to free music while sipping wine at Arrington Vineyards. Shelbyville is home to the Tennessee Walking Horse Association.
Uncover stories of Civil War battles, early settlers and picturesque villages on the Old Tennessee Trail. Catch a live show or movie at the renovated 1930s Franklin Theatre. Tour the antebellum Greek Revival Rippavilla Plantation. Columbia's James K. Polk Home & Museum displays the country's largest collection of the 11th president's artifacts. If Sunday morning was a town, Leiper's Fork would be it with antique shops, restaurants, farmers market and live music in the Lawn Chair Theater.
On the Nashville Trace Trail, discover music legends on Nashville's Music Mile. Delve into the mysterious death of explorer Meriwether Lewis at his Natchez Trace Gravesite. Hike at Lawrenceburg's David Crockett State Park. After wine tastings at Amber Falls, Keg Springs, Natchez Hills and Grinder's Switch, end your day at Junkyard Dog Steakhouse in Hohenwald. Waynesboro's Tennessee Fitness Spa includes a historic natural bridge, believed to be the world's only double-span natural bridge formation – and also where outlaw Jesse James hid from lawmen. Walk through historic downtown Franklin's shops, restaurants and boutiques and soak in Civil War history at Carnton and the Carter House.
Music, outdoor adventures and unique cuisine dot the Screaming Eagle Trail. Sample award-winning wines at Beachaven Vineyards and Winery in Clarksville. Shop and eat your way through downtown Clarksville and see what's onstage at Roxy Regional Theatre. Catch a performance at the Gaslight Dinner Theater in Dickson's Renaissance Center. Soak in nature with Blue Heron Cruises on the Cumberland River in Ashland City. Time travel to pioneer days at the living history museum of historic Collinsville. Fill up with a barbecue quesadilla at the Fillin' Station in Kingston Springs.
The Ring of Fire Trail pays tribute to the Man in Black. Pay your respects at Johnny Cash and June Carter Cash's gravesites at Hendersonville Memory Gardens. Get an intimate look at where careers of music legends launched at Historic RCA Studio B. Go swimming or boating on Cordell Hull Lake near Carthage. Tour Bell Witch Cave, called one of the most haunted places in America. Relive stories of early settlers and frontiersmen at historic homes like Rose Mont and Rock Castle. Savor an old-time milkshake at Thomas Drugs' pharmacy and soda fountain in Cross Plains.
East & Middle Tennessee
Follow in the footsteps of settlers, storytellers and musicians along the Pie in the Sky Trail. Enjoy hikes and spectacular views from Savage Gulf State Natural Areaand Lookout Mountain. The Bluff View Arts District in Chattanooga has art galleries, gardens, crafts and cuisine. Dine with a view at Jacob Myer's Restaurant in Dayton, which overlooks Chickamauga Lake. Experience rock formations, waterfalls and the Volcano Room at McMinnville's Cumberland Caverns. Learn about the legacy of the "Empress of the Blues" at Bessie Smith Cultural Center in Chattanooga.
East Tennessee
Adventure on scenic byways for breathtaking views on the Tanasi Trail. Take a vintage passenger ride along the Hiwassee River to the historic copper mining town of Copperhill. Whitewater raft on the Ocoee or picturesque Bald River Falls in Tellico Plains. Treat your taste buds to Benton's Smoky Mountain Country Hamsin Madisonville or plan a weekday tour of Mayfield Dairy in Athens. Grab a mug of fresh cider, homemade pies and fritters at Cleveland's Apple Valley Orchard. Journey under the sea at Tennessee Aquarium in Chattanooga.
The Sunny Side Trail echoes the hymn that served as the theme song for the Carter Family, whose careers were launched by the 1927 Bristol Sessions, commemorated at the Birthplace of Country Music Museum. Travel back in time at Rocky Mount State Historic Site, a 1791 living history museum in Piney Flats. Hike along scenic waterfalls, stunning vistas and rhododendrons at Roan Mountain State Park. Try slow-smoked and dry-rubbed meats at the new Southern Craft BBQ in downtown Johnson City or try a metal or woodworking class at Skillville. Chow down at Blue Circle in Elizabethton, which has been serving its famous Circle Burger since 1931. Journey to historic downtown Greeneville for unique shops, galleries, historic sites and eateries.
Two hundred miles of unique stories are told every day through Appalachian arts and crats, preserved buildings and historic town squares on the White Lightning Trail. Learn more about pioneer life at the Museum of Appalachia in Norris. Learn the history of the miners who lived and died at Coal Creek Mine in Rocky Top. See how "corn licker" is made at Cocke County Moonshine Distillery. Stop for a milkshake at Hoskin's Drug Store in Clinton. Hike along trails in Cumberland Gap Historical Park near Harrogate, which straddles three states.
Uncover the Top Secret Trail's WWII history at Manhattan Project National Historical Park in Oak Ridge. Local artists display their works at the nonprofit Appalachian Arts Craft Center in Clinton. The preserved Victorian village of Rugby sits near the Big South Fork National River & Recreation Area. Sample wines and local cheeses at Highland Manor, Tennessee's oldest winery in Jamestown.
Explore America's most visited national park, The Great Smoky Mountains, along the Rocky Top Trail. Meet the community of craftsmen and artisans by visiting their studios and galleries in Gatlinburg. Sip tea and grab a salmon burger in the treasured Wild Plum Tea Room. Bond with exotic creatures at Ripley's Aquarium of the Smokies or feed zebras and ostriches at Briarwood Auto Safari near Morristown.
Scenic Byways
Soak in the scenic beauty and history while driving down winding backroads on Tennessee's National  Scenic Byways:  Woodlands Trace , Natchez Trace Parkway, Cherohala Skyway Byway, East Tennessee Crossing and Great River Road.
State Initiatives
The newly launched U.S. Civil Rights Trail highlights more than 140 sites in 14 states that played a pivotal role in advancing social justice in the 1950s and 1960s. There are 10 Tennessee stops, including the National Civil Rights Museum in Memphis, Woolworth on 5th in Nashville and the Clinton 12 Statues and Green McAdoo Cultural Center in Clinton.
Civil War Trail
The Civil War Trails program installed interpretive markers at sites in Tennessee, Virginia, Maryland, West Virginia and North Carolina. The trails guide visitors as they follow in the footsteps of generals, soldiers, citizens and the enslaved. Preserved battlefields and plantation homes tell the stories of the war that tore the country apart, when the sounds of cannons shook the ground and a time when family homes became Civil War hospitals and farmers' fields became battlegrounds. Overlooking the Battle of Franklin sits Carnton, private home-turned-field hospital and provided land for the Confederate cemetery. Step in the shadow of one of the Civil War's most definitive battles at Shiloh National Military Park. Trace the movements of the Chickamauga and Chattanooga campaigns from Lookout Mountain. Other destinations to add to your travel list include Hartsville Battlefield in Hartsville, Fort Donelson National Battlefield in Dover and Stones River National Battlefield in Murfreesboro.