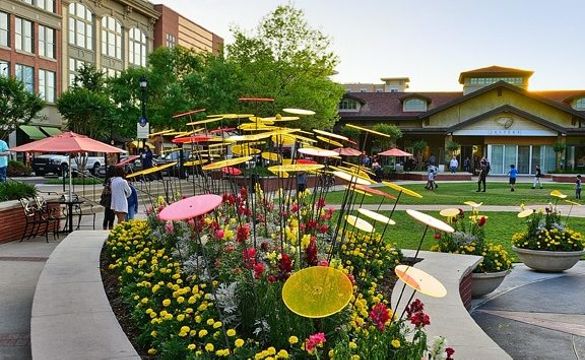 10 Insider Tips for Enjoying Market Street in The Woodlands
---
From shopping then playing at the park to enjoying a relaxing Sunday afternoon dinner, you can get it all in one stop at Market Street in The Woodlands. Located across the street from The Cynthia Woods Mitchell Pavilion, Market Street is in between Lake Woodlands Drive and Six Pines Drive – right in the middle of all of the action The Woodlands has to offer. And, we have a few insider tips to help you get the most out of your next visit.
"I think it's an experience when you come here," said Noemi Gonzalez, Marketing Director for Market Street – The Woodlands. "It's not your typical shopping center. Kids can play in the park, you can have dinner and then, of course, we have shopping."
Gonzalez tells us nowadays, this type of shopping is what consumers are looking for.
"We want to create a full experience for them," she said. "For example, I can run and get something for my kid and while there he can play for a bit or maybe get some ice cream. It's not your typical mall."
Insider Tips
Large Green Space – The shops and restaurants at Market Street are arranged in a square sort of design so in the middle sits a large green space park area. There are often various art installations set up on the grass. On weekends if the weather allows, games like Connect Four, Jenga and Bean Bag Toss are out and about for you to enjoy.
Easy parking – There is a large parking garage on the property where you can easily park and get right into Market Street. They also have premium parking spots in front of the stores. A percentage of the parking meter fees goes back to local charities. Market Street leaders choose four different charities to support each year.  (Valet is also an option.)
Cool Events – There is always something cool going on at Market Street. The Woodlands Car Club gathers on the first Sunday of the month from 7 – 11 a.m. and bring out cool cars to put on display. They also have a spring and fall concert series on Thursday nights at 8 p.m. View more events here.
Free Trolley – Need to make a stop by The Woodlands Mall, Waterway Square or Hughes Landing? There is a free trolley service (11 a.m. to 8 p.m. every day) that will bring you! The trolley makes the rounds several times each hour and makes it easy for you to hop over to other popular spots in The Woodlands.
Mobike – Grab a bike – and go! Mobike, the world's largest smart bike sharing company, is on property at Market Street. Mobikes do not have docking stations which means you can use them and leave them in certain areas when you are done. It's only $1 per half hour.
Stores for all budgets – From Tiffany and Company to Rolex, Market Street provides high end shopping for people to enjoy. But, there are plenty of shops that have budget friendly options for you to choose from. You can check out a complete shop directory here.
Brunch, Happy Hour and of course, dinner! – There are 15+ restaurants on the Market Street property. You can choose something casual like Zoes Kitchen or make it more upscale at Jasper's Gourmet Backyard Cuisine. Many restaurants organize and host specials for Brunch, Happy Hours and more. The newest addition is True Foods Kitchen, coming in May 2018.
Treat Yourself too! – Market Street is not just for shopping and eating, it's also a great place to pamper yourself with a spa treatment or fun workout. Studio A Pilates, Bella Rinova Day Spa, Boardroom Salon for Men and Massage Envy to name a few. You can also take a break from the day at the Cinemark Movie Theater.
Get your "steps" in – For many people, heading to the mall and walking around is the way they get their exercise in. You can enjoy "mall walking" at Market Street too! We did a rough estimate and think it's about .30 miles if you walk the inside perimeter of the property. Do this three times and you've almost walked a mile!
Complimentary Umbrellas – This may seem like a small thing but trust us, it's not. Have you ever been stuck somewhere in the pouring rain? Market Street makes sure it doesn't happen when you visit. They have umbrella baskets strategically placed around the property for you to borrow. Just grab, go and return when you are done!
The folks at Market Street are always looking for ways to make the area more comfortable for guests. Gonzalez says they have updates coming that include adding more shade structures around the property.
"We know people like to be outdoors and we really do encourage people to enjoy the area," she said.
For help planning your next trip, check this map of the property and see specials that certain stores may be offering.