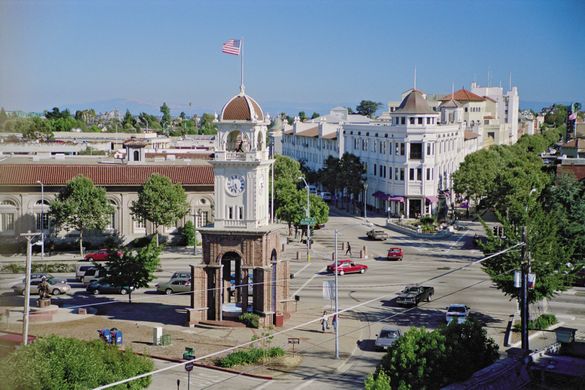 0
What's New in Santa Cruz, California for Summer 2018
---
SANTA CRUZ COUNTY, CALIFORNIA — Long-haul travelers take note:  Santa Cruz, California offers coastal redwood forests and glorious, sunny beaches, all within a small region.  Close in proximity to San Francisco and an easy drive from Los Angeles along California's iconic Highway 1, Santa Cruz offers the quintessential California beach vacation.  This year, visitors can explore a wealth of new options:  from a historic adobe to cemetery-themed cocktails featuring local chocolate, there's always something new to explore in this quaint seaside community.
Here are some new things to check out this season in Santa Cruz, California:
Kleen Kanteen Inventor Designs New Whale-Themed Art Installation at the Monterey Bay National Marine Sanctuary Exploration Center
There's a brand-new art installation outside of the Monterey Bay National Marine Sanctuary Exploration Center, located next to the Santa Cruz Beach Boardwalk and Santa Cruz Wharf. The Monterey Bay National Marine Sanctuary (MBNMS) is a federally protected marine area that stretches over 276 miles from Marin to Cambria in San Luis Obispo County, and is one of the country's largest marine sanctuaries. The Exploration Center offers interactive exhibits and displays, as well as a film shown in their state-of-the-art HD theater. The new sculpture, a collaboration between the Exploration Center, the National Oceanic and Atmospheric Administration, and local artist Robert Seals, features a dynamic formation of five metal humpback whales. Dusting the sheet steel material of the whales in a blue powder coating, Seals designed the finish to reflect the sun in such a way that the whales appear to be covered in water droplets. Seals then ventured one step further after creating the piece, inventing a special mount used in securing the installation to the wall. One might say that Seals is an expert when it comes to inventing, though; after creating all-in-one tools for snowboards and mountain bikes, he achieved huge success with his revolutionary portable stainless steel container, the Kleen Kanteen! Local tip: Seals can sometimes be spotted playing in local surf band The Wave Tones or driving his mobile art museum around town. The MBNMS Exploration Center is open Wednesday – Sunday, 10:00 AM – 5:00 PM and admission is free!
PopUp Debuts Sweet Partnership with Mutari Chocolate
Ever since POPUP established its versatile micro-eatery adjacent to farm-to-table favorite Assembly restaurant's main dining room in downtown Santa Cruz, adventurous foodies have been enjoying the rotation of cult favorites, from handmade ramen to artisanal doughnuts. But now it looks as though the experimental space has found a long-lasting partner, in bean-to-bar confectioner Mutari Chocolate, who chose the location as a permanent shop. Mutari Chocolate specializes in creating distinctive flavor-pairings within the form of a traditional treat. Choose between the hot chocolate chai and the pink Himalayan salt hot chocolate. Mutari Chocolate is also testing out a cacao nib bitters cocktail to be served at Assembly on a seasonal basis.
Toast to Santa Cruz History with an Evergreen Cemetery-Themed Cocktail
A creative new venue combining artisan food, craft beer and cocktails, live music and entertainment, and family-friendly activities has opened in the heart of Downtown Santa Cruz is getting more creative!   Abbott Square Market, supported by the Santa Cruz Museum of Art & History (MAH) and located at Front and Cooper Streets, is designed to be the food and cultural center of the town. Now, a connection has been established between the present and the past.  Nearby Evergreen Cemetery – open to the public and managed by the MAH – is a scenic, tranquil spot where early pioneers, Civil War veterans, and Chinese immigrants were laid to rest.  Pairing well with the forested hillsides, historic gravesites, and heritage trees, the Front & Cooper bar at Abbott Square now features cocktails which pay homage to this notable site.  Created by world champion mixologist Kate Gerwin, the Evergreen Cocktail program features creatively-named libations using local ingredients – including Mutari chocolate. Part of every purchase of one of these "spirited" beverages will benefit the revitalization of the cemetery.
Castro Adobe State Historic Park Now Open for Free Monthly Tours
Located in Watsonville's bucolic Larkin Valley, the 1850 Castro Adobe State Historic Park has been brought alive through a restoration project and archeological work. Now for the first time in 168 years, the adobe structure – the original home of Juan Jose Castro, a Mexican rancher who settled in the area – is officially open to the public. Free monthly tours of Castro Adobe offer visitors a unique opportunity to tour the property, witness its captivating restoration, and experience a glimpse of what life was like in the 1800s.  This former Castro home the only two-story adobe in Santa Cruz County – one of only four.  Listed on the National Register of Historic Places and designated as a California State Historical Landmark, the adobe home includes an original rancho cocina – a traditional Mexican kitchen and a rarity in California. Upstairs, an expansive fandango room hints at the many parties hosted at the house, which sits at the crest of gentle hill offering distant glimpses of Monterey Bay.  The home is surrounded by clusters of hukling cactus adorned with crimson-red prickly pears, a small orchard blossoming with apple, persimmon, and walnut trees and a peaceful garden dotted with magnificent old cork trees, and purple blooms of wisteria wrapping the adobe's wooden posts.  Free tours are offered monthly, where visitors can learn to rope, make tortillas in the cocina, and enjoy speakers, music, and family-friendly events.
Getting There:
Located along the Central Coast, Santa Cruz County, California is approximately 70 miles/113 km south of San Francisco and 349 miles/562 km from Los Angeles. Many visitors choose to take scenic Highway 1 along the California coastline to Santa Cruz, or Highway 17 through the Santa Cruz Mountains. Visitors can also choose to fly in to San Francisco International Airport or Mineta/San Jose International Airport
Press Contact:  Christina Glynn, Communications Director
Visit Santa Cruz County
Phone:  +1.831.429.7281 ext. 112.
Email:  cglynn@santacruz.org.
Mail:  303 Water Street, #100, Santa Cruz, CA  95060
About VSCC: A private, non-profit corporation, Visit Santa Cruz County (VSCC) exists to enhance tourism and the economy by positioning Santa Cruz County as a visitor, conference and film destination. For more information, contact VSCC at +1.831.425.1234.  Or visit VSCC's website at www.VisitSantaCruz