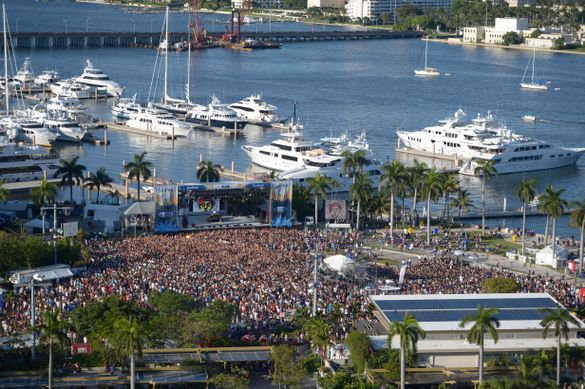 London, United Kingdom (12th April 2018) – The Palm Beaches has it all for those in need of some summer sun and musical fun. In a destination larger than two U.S. States (Rhode Island & Delaware), 47-miles of palm-fringed beaches, glorious sunshine, fresh culinary cuisine and tropical charm await. Visitors can celebrate the summer festival season in The Palm Beaches at an array of top musical venues. From the shores of the scenic downtown West Palm Beach waterfront to a handful of other stellar outdoor concert venues, music lovers planning a trip to the Sunshine State can choose from the summer line-up and enjoy the destination's weather and sunshine. But the music scene doesn't stop there, summer concerts and live music can also be found throughout the destination, which is composed of 39 cities and towns.
Here, we highlight popular festivals and venues to catch the best of music in America's First Resort Destination®, The Palm Beaches:
SunFest – West Palm Beach, Fla.
Thursday 3rd – Sunday 6th May 2018
Taking place annually every year, Florida's largest music and arts waterfront festival returns on Thursday 3rd through Sunday 6th May 2018, bringing with it an entourage of some of the best international artists on the music scene. Situated in the heart of the downtown West Palm Beach's Arts and Entertainment District, a bustling shoreline hub next to Florida's Intracoastal Waterway, SunFest is once again set to take the county by storm, featuring a star studded line up with the likes of Pitbull, Zedd, Ice Cube, Nick Jonas and 80's punk rock sensation Billy Idol. Founded in 1982, SunFest has grown to become Florida's largest music and arts festival, attracting more than 175,000 visitors every year, leaving a huge, positive impact on the local economy. Nestled in amongst the cluster of restaurants and bars, museums, galleries and performing arts centres, SunFest illuminates one of the most distinguished cultural pockets in Palm Beach County, where art and music become one. Recognised for its significant contributions to the arts industry, SunFest will present an array of art exhibitions, where artists from all over the world convene to display a celebration of their work from paintings, sculptures and photography. For further information on SunFest please visit: www.sunfest.com/
Coral Sky Amphitheatre – West Palm Beach, Fla.
The Coral Sky Amphitheatre qualifies as one of The Palm Beaches' finest venues for music. Accommodating up to 19,000 seats, the amphitheatre has played host to some significant events and concerts, welcoming the likes of Tom Petty, Green Day, Kings of Leon, Lana Del Rey and The Spice Girls onto its stage. This venue is unmissable and offers beautiful sunsets from its seating arrangements, an asset which leads to the very origination of its name. This amphitheatre is popular amongst music lovers and offers amazing acoustics in the most attractive summer set-up. Expect the very best of music in this venue, with scheduled performances from Foo Fighters and Kendrick Lamar taking place later this year. Visitors can choose from traditional seating options to lawn seating, allowing you to bring along a folding chair or blanket to enjoy the show. For further information on Coral Sky Amphitheatre please visit: www.westpalmbeachamphitheatre.com/
Upcoming concerts at Coral Sky Amphitheatre include:
26th April 2018: Foo Fighters
23rd May 2018: Kendrick Lamar
18th August 2018: Evanescence
25th August 2018: Jeff Beck, Paul Rodgers and Ann Wilson
23rd September 2018: Niall Horan
Mizner Park Amphitheatre – Boca Raton, Fla.
Situated in the heart of Boca Raton, The Mizner Park Amphitheatre, a state-of-the-art outdoor amphitheatre, colonnade and concert green is one of The Palm Beaches' more intimate gathering spots. Accommodating a total 4,200 people, the amphitheatre serves as a social, cultural and educational centre for South County residents, drawing audiences from all over the world and throughout South Florida. Having opened in late 2002, the venue has gone on to become one of the most popular venues in The Palm Beaches and over the course of its time has gone on to entertain more than one million people. Events at the amphitheatre take the form of a variety of community events, city events, and commercial concerts. Expect the likes of trendy up and coming artists and specialist genres, with the Youth Orchestra of Palm Beach County set to perform at the end of the month. 3 Doors Down and Cypress Hill are also part of this year's line-up.  For further information on Mizner Park Amphitheatre please visit: www.myboca.us/826/Mizner-Park-Amphitheater
Upcoming concerts at Mizner Park Amphitheatre include:
12th May 2018: Blue Oyster Cult
10th July 2018: 3 Doors Down & Collective Soul: Rock & Roll Express Tour
The Sunset Cove Amphitheatre – Boca Raton, Fla.
Blessed by its stunning natural surroundings and warm summer breezes off the lakes of South County Regional Park, Sunset Cove Amphitheatre is one of the county's most distinguished arts and entertainment facilities. With its manageable, compact size the amphitheatre is one of The Palm Beaches smaller venues, capable of hosting up to 6,000 patrons for national acts, tribute bands, festivals, community fundraisers and cinema screenings. Opening in 2008, the venue houses state of the art facilities, including a 1,700 sq. ft. stage with rear screen projection capability, covered dining area with patio for grilling and cooking as well as a spacious lawn. Despite its size, this cozy venue has hosted some true musical gems from the likes of 30 Seconds to Mars and internationally renowned West County singer Willie Nelson. Sunset Cove is an excellent venue to soak up an authentic Palm Beach experience, local music, and engage with the local community during cultural gatherings. For further information on The Sunset Cove Amphitheatre please visit: http://discover.pbcgov.org/parks/amphitheaters/Pages/Sunset-Cove.aspx.
-Ends-
About Discover The Palm Beaches
Discover The Palm Beaches, formerly the Palm Beach County Convention and Visitors Bureau, is the official tourism marketing corporation that promotes the collection of 39 cities and towns spanning more than 2,300 square miles and 47 miles of pristine beaches from Boca Raton to Jupiter and Tequesta, commonly referred to as "The Palm Beaches." Tourism is among Palm Beach County's major industries, generating $4.7 billion in direct visitor spending and supporting 70,000 jobs with an economic impact of about $7 billion. Once recognized as a tropical escape for elite travelers in the late 1800s, America's First Resort Destination® is making its resurgence as The Best Way To Experience Florida®, welcoming a record-breaking 7.89 million people in 2017. The Palm Beaches are home to nearly 17,000 hotel rooms, ranging from historic resorts to boutique inns. The destination features more than 100 family-friendly attractions, world-class luxury and antique shopping experiences, 125 miles of peaceful waterways for on- or in-the-water activities, more than 150 artificial reefs that line the Atlantic Ocean's Gulf Stream current, 160 golf courses, award-winning restaurants and a thriving entertainment scene boasting more than 200 art and culture organisations. Situated along I-95, The Palm Beaches are also home to Palm Beach International Airport (PBI), with more than 200 daily direct flights to 27 domestic and international destinations in the United States and Canada. The Palm Beaches are also conveniently located next to Fort Lauderdale-Hollywood and Miami International airports, each one only an hour away. In addition, with the new Brightline train, transportation into The Palm Beaches from Fort Lauderdale is even faster and more convenient – with connections to Miami and Orlando coming soon. For more information about The Palm Beaches, visit www.ThePalmBeaches.com and connect on social media via Facebook, Twitter and Instagram @PalmBeachesFL, YouTube at Discover The Palm Beaches and the hashtag #ThePalmBeaches.