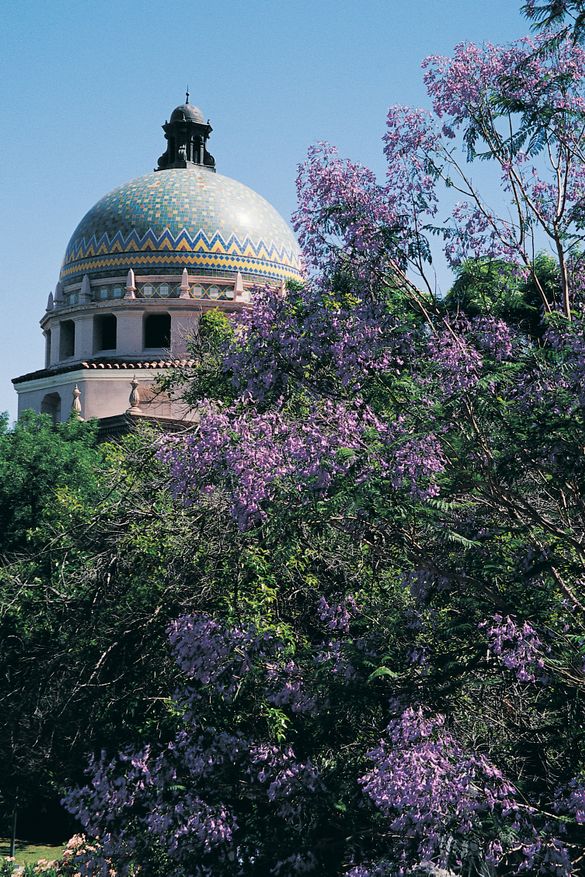 What's New in Tucson – May 2018
---
TUCSON RECEIVES WORLD FESTIVAL & EVENT CITY DESIGNATION – Tucson, Arizona was among nine cities globally to be declared a World Festival & Event Cityby the International Festivals & Events Association (IFEA) in September 2017. This recognition acknowledged Tucson's "community leadership and ongoing, concerted efforts to provide and support a positive local environment that is conducive to and encourages success and growth of festivals and events." The city and its audiences support more than 40 annual events in addition to many dozens of non-annual events occurring every month of the year.
AIR SERVICE
AMERICAN AIRLINES LAUNCHES NEW NONSTOP TUCSON-CHARLOTTE FLIGHTS – In February 2018, American Airlines introduced a nonstop flightbetween Tucson International Airport (TUS) and Charlotte Douglas International Airport (CLT). The new daily service is an overnight flight from Tucson timed to give southern Arizonans connections to the East Coast and the southeast U.S. as well as the Caribbean. The flight offers East Coast passengers an opportunity to jump-start their day with a morning arrival.
ALASKA AIRLINES OFFERS NONSTOP SERVICE BETWEEN SJC AND TUS – In August 2017, Alaska Airlines launched a daily nonstop flight between Tucson (TUS) and Mineta San Jose International Airport (SJC). The new service provides convenient access between Tucson and Silicon Valley and the South Bay area. The flight is scheduled to leave San Jose at 5:49 p.m. and arrive in Tucson at 7:45 p.m. The return flight is scheduled to depart Tucson at 7 a.m. and arrive in San Jose at 9:06 a.m.
DOWNTOWN TUCSON DEVELOPMENT
SHIPPING CONTAINER COMPLEX: NEW HUB FOR FOOD & FUN – The Mercado San Agustin (MSA) will double the number of locally owned small businesses clustered along Avenida del Convento when the new MSA Annex hosts its grand opening on May 4, 2018. The MSA Annex will house restaurants and shops permanently inside modified shipping containers. A 500-seat festival grounds for community events is planned. MSA Annex is on the western terminus of the Sun Link streetcar line.
NEW MULTI-USE CENTER BRINGING BOWLING & ROOFTOP DECK – City Park, a retail-restaurant-office complex under development in downtown Tucson, is scheduled to open in mid-2018. The proposed five-story City Park will house a food hall, two restaurants, an entertainment venue with a bowling alley, a pinball arcade, a bar, and private event space, with connecting ground-floor patios. The top level will offer flexible space for either retail or offices and a 2,600-square-foot deck for outdoor events like conferences or concerts.
HOTELS
REBRANDED HOTEL MCCOY OPENING AFTER $2.5 MILLION FACELIFT – Featuring an A-shaped entrance, the mid-century-modern Hotel McCoy will open in summer 2018 after completing a major renovation and rebranding. The single-story boutique property will offer 93 rooms averaging 280 square feet with private bathrooms, free Wi-Fi, and an outdoor pool and cedar-lined sauna. Everything will be locally sourced and eco-friendly, from lobby art to furniture and food and beverages. The motel is located less than five miles from downtown Tucson and the University of Arizona in rising and colorful Barrio Ochoa.

MARRIOTT'S NEWEST ARIZONA HOTEL OPEN IN DOWNTOWN TUCSON – Tucson's newest downtown hotel, the eight-story AC Hotel Tucson Downtown, opened in September 2017. Located on Tucson's Sun Link Streetcar route, it is the first hotel built in downtown Tucson in over 40 years. The hotel features 136 rooms (six of which are suites), a rooftop pool and poolside bar, a restaurant, a fitness center, a 200-space public parking garage, and nearly 6,000 square feet of retail space on the ground floor. The amenities for business travelers and small groups include an on-site business center with fax and copy services plus Wi-Fi in all areas, the latest high-tech equipment, and catering services ideal for corporate meetings, training sessions or presentations.
NEW ARAVAIPA FARMS ORCHARD & INN OFFERS COUNTRY COMFORT – A quaint, country-style boutique property featuring farm-to-table dining and hiking in nearby Aravaipa Canyon Wilderness, Aravaipa Farms Orchard & Inn, reopened in September 2017 in Mammoth, AZ, between Globe and Winkelman, a convenient stop between Scottsdale and Tucson. This 46-acre compound's recently re-established fruit orchards and vegetable gardens provide fresh produce for on-property meals. There are a pool and estate garden, five casitas and a three-bedroom main house that accommodate groups from 2 to 22 in air-conditioned comfort with private baths, walk-in showers, and queen-sized beds.
EMBASSY SUITES HILTON TUCSON PALOMA VILLAGE COMPLETES UPGRADES – In August 2017, Embassy Suites by Hilton Tucson Paloma Villagecompleted a $2.8M renovation of its guestrooms and public spaces. Located at Skyline Drive and Campbell Avenue in Tucson's Catalina Foothills area, the hotel is seven miles from the University of Arizona and 15 miles from Tucson International Airport. It has 2,700 square feet of indoor meeting space, including three meeting rooms, as well as a heated outdoor pool, business center, a small gift shop and a fitness center.
HILTON TUCSON EAST GETS 30TH ANNIVERSARY MAKEOVER – Hilton Tucson East celebrated its 30th anniversary with an $8 million makeover that was unveiled in April 2018. The property-wide renovation included improvements to all 232 guest rooms and its meeting rooms and ballrooms as well as an upgraded swimming pool area, new restaurant and bar, and modernized HVAC and water systems. The hotel is on East Broadway Boulevard in midtown Tucson, minutes from Tucson Convention Center, University of Arizona, and Tucson International Airport.
RENOVATIONS UNDERWAY AT DOUBLETREE BY HILTON TUCSON-REID PARK – Locally-owned Nor Hotel Properties, LLC, has acquired DoubleTree by Hilton Tucson – Reid Park, on Alvernon Way in midtown Tucson, with plans to begin a large-scale renovation of the 287-guest room hotel, including 25,000 square feet of meeting space, the hotel lobby, bar, and two restaurants. Renovation is underway to the hotel lobby, bar and two restaurants. The hotel ballroom, meeting rooms and courtyards will be remodeled next summer, and the hotel's guest rooms are scheduled to be completed by fall of 2018.
TUBAC GOLF RESORT & SPA JOINS AAA FOUR-DIAMOND HOTEL LIST – In March 2018, Tubac Golf Resort & Spa, located south of central Tucson at the base of the Santa Rita Mountains, was awarded the 2018 AAA Four-Diamond hotel rating for excellence in service and amenities. The Spanish Revival-style property, a member of Historic Hotels of America, recently completed upgrades to its swimming pool, guest rooms, and patio at its iconic Stables Ranch Grille. This is the resort's first time for this ranking.
WHITE STALLION RANCH RANKS IN TRIPADVISOR TOP 25 LIST –  White Stallion Ranch ranked #19 on TripAdvisor's 2018 list of Top 25 Hotels for Customer Service in the U.S. TripAdvisor's Travelers' Choice rankings are based on millions of traveler reviews. Located on 3,000 acres and bordering two miles of Saguaro National Park's West District, White Stallion Ranch has been owned and operated by the True family of Tucson for more than 50 years.
RESTAURANTS
El GUERO CANELO'S SONORAN HOT DOG WINS JAMES BEARD AWARD – El Guero Canelo, a popular vendor of Tucson's famous Sonoran-style hot dogs, won one of five 2018 America's Classics James Beard Awards, awarded at the James Beard Awards Gala in Chicago on May 7, 2018. El Guero Canelo opened in 1993 as a food cart (their original cart is at their Oracle Road location, one of three in Tucson). Their Sonoran hot dogs are truly a cross-border creation featuring thick, fluffy bolillo rolls baked for them in Magdalena, Mexico and brought north, ready to hold the bacon-wrapped dog, pinto beans, grilled and raw onions, tomatoes, jalapeño sauce, mayonnaise, and mustard. See a photo, here.
PRESIDIO DISTRICT HOSTS NEW 'CITY OF GASTRONOMY' TOUR – The Presidio District in downtown Tucson has launched a popular new walking tour in celebration of Tucson's 2015 Creative Cities – UNESCO City of Gastronomy designation.  "The Presidio District Experience:  A Progressive Food Heritage and History Tour" features food tastings and discussion led by a local ethnobotanist. Both New World foods grown by the Tohono O'Odham Nation and Old World foods brought here initially by Spanish explorers can be found on Tucson menus, and many Presidio District restaurants on this tour highlight such local ingredients.
8 LOCAL DINING OPTIONS AT NEW FOOD COURT, AMERICAN EAT CO. – A local food court with six different independent  restaurants, a beer and wine bar, a coffee shop, and a market has opened under one roof on Tucson's south side near downtown. The new American Eat Co. & Market indoor food court opened in April 2018 in a refurbished warehouse formerly occupied for 62 years by a family-owned butcher shop. Dining options include local twists on pizza, burgers, ribs, tacos, seafood, poke, ice cream, and more. The 8,000-square-foot space features a modern industrial-style interior with a community dining room and outdoor patio.
MONSOON CHOCOLATE, NEW SOUTHWESTERN-STYLE CONFECTIONS – Handcrafted chocolate bars infused with herbs, seeds or fruits of native Sonoran Desert plants will be a featured item at Monsoon Chocolate, a new factory, shop and café opening in a renovated former Mexican food restaurant on the south side of Tucson, April 25, 2018. Founder and head chocolate-maker Adam Krantz and his team will hand-sort, roast, crack, winnow, grind, conche, age, temper, and mold ethically sourced cacao into artisan chocolate bars. The factory and shop space is due to open by summer 2018; a café serving coffee, tea, and light fare is planned to open in autumn 2018.
IRON JOHN'S BREWING CO. PLANS TAP ROOM DOWNTOWN – Iron John's Brewing Company is opening a tap room on Congress Street in downtown Tucson, at the former site of an artisan olive store, in June 2018. The new bar, tentatively titled Iron John's Congress Taproom, will seat 35 and offer at least 10 different taps with an ever-changing lineup of Iron John's beer as well as a few wines, cold-brew coffee, and a house kombucha. Customers will be welcome to bring in food from outside. Iron John's microbrewery, a few blocks from downtown, specializes in small-batch brews, many using locally sustainably harvested ingredients, like prickly pear and saguaro fruit.
ANELLO PIZZERIA OPENS IN WAREHOUSE ARTS DISTRICT – Anello Pizzeriaopened in a red-brick space in the Warehouse Arts District, downtown Tucson, in October 2017. The restaurant serves wood-fired, hand-tossed pizza made with fermented natural sourdough and fresh ingredients. The menu is designed to "not break your wallet," with pizzas priced around $11 and most other items capped at around $6. The owner and pizza maker, Scott Girod, previously worked under legendary pizza maker Chris Bianco.
TEA HOUSE ADDS DOWNTOWN TUCSON LOCATION – The Scented Leaf Tea House & Lounge opened a second location, on Congress Street in downtown Tucson, in August 2017, following the success of its popular original site adjacent to the University of Arizona in Main Gate Square. The Scented Leaf is known for its premium, loose leaf, organic teas on tap (iced or hot) and smoothies and snack items.
CULINARY DROPOUT AT GRANT ROAD LUMBER YARD – In September 2017, restaurateur and Tucson native Sam Fox opened Culinary Dropout at the site of former Tucson landmark Grant Road Lumber. The 20,000-square-foot indoor and outdoor space, with 12,000 square feet enclosed and seating for about 400, has a full dining room and bar, an outdoor gaming area, and a 150-person private dining and event space. The menu features comfort food/gastro-pub fare and cocktails. Sam Fox launched his nationwide Fox Restaurant Concepts in his hometown Tucson in 1998.
ATTRACTIONS
PACKRAT NESTS, NEW EXHIBIT AT DESERT MUSEUM – Scientists rate packrat "middens" as among the best records of environmental change over the last 50,000 years in the Southwestern United States. These trash piles near the houses of packrats are the focus of the newest exhibit at Arizona-Sonora Desert Museum."Packrat Playhouse: Hidden in the Midden," opened in April 2018, is a large, air-conditioned indoor play-and-learning space that simulates a packrat house with lifelike cactus pads that kids can scramble on while adults learn about regional wildlife adaptation. This, like all other exhibits at the museum, exists to augment and interpret the natural surroundings of the Sonoran Desert.
TUCSON COMPLETES 'THE LOOP' BIKE PATH – On March 17, 2018 Pima County celebrated completion of The Loop, a 131-mile system of paved, shared-use paths and short segments of buffered multi-use bike lanes that spans the metro Tucson area, allowing cyclists, pedestrians, joggers and equestrians an opportunity to enjoy beautiful Sonoran Desert landscape on vehicle-free paths. The Loop connects parks, trailheads, bus and bike routes, restaurants, hotels, shopping areas, and entertainment venues.
TUGO BIKE SHARE LAUNCHED IN TUCSON – For quick trips in the midtown Tucson area, which includes University of Arizona, bike riders can now borrow a bike via Tucson's new TuGo Bike Share program of rentals at 36 self-serve docking stations. Open in October 2017, TuGo uses an app called CycleFinder that sells daily, monthly, annual passes for unlimited trips under 30 minutes.
ELECTRIC BIKE STORE OPENS NEAR 'THE LOOP' – A Pedego® Electric Bikesstore opened in Tucson's St. Philip's Plaza, adjacent to The Loop network of multi-use trails and bike paths, in January 2018. The new store offers electric bicycle (or "e-bike") sales, rentals, and service; guided tours are in the works. Renters can choose from four models with two-hour, half-day, and full-day options. Rental includes a lock, bag, helmet, and bottled water.
TOPGOLF OPENS NEW LOCATION IN TUCSON – Global sports entertainment leader Topgolf® opened its third Arizona location in Tucson on December 15, 2017. The 53,000-square-foot venue features 1,500 square feet of private event space, 72 climate-controlled hitting bays that can host up to six players at one time, and a restaurant and bar. Year-round programming will include events for kids and families, social leagues, golf tournaments, and golf instruction.
RENOVATION & EXPANSION AT TUCSON MUSEUM OF ART – Arizona's oldest visual arts institution (founded in 1924), the Tucson Museum of Art and Historic Block reopened in October 2017 after a roughly $750,000 renovation and expansion. The increased space allowed the museum to display more of its 9,000-piece permanent collection, to expand space devoted to its extensive Art of the American West collection, and to show blockbuster traveling exhibitions. The expansion included enlarging the museum's popular gift shop featuring locally made items and adding an art-making space for children.