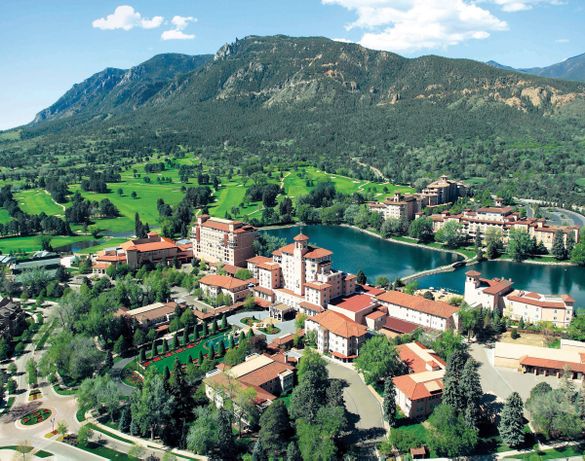 5,000 Acres, U.S. Senior Open, and Luxe Wilderness Experiences Await
Colorado Springs, Colo. – The Broadmoor is the longest-running Forbes Five Star and AAA Five Diamond property on the planet. It's also one of the few resort destinations in the U.S. people can actually name. And, it is turning 100 in 2018 with one heck of a year-long party.
This is where the West begins – at the base of the Rocky Mountains in Colorado Springs. The Broadmoor encompasses 5,000 acres, has its own canyon with mountain waterfalls, and, if that's not enough, operates a super-exclusive retreat called Cloud Camp on top of Cheyenne Mountain at 9,200 feet. Guests can try their hands at ranch life at the Ranch at Emerald Valley or pick up a rod and reel at Fly Fishing Camp on the banks of the Tarryall River. There's a zip line experience that is longer than a championship golf course, and there's a championship golf coursewhere a guy named Jack Nicklaus won his first major title. The U.S. Senior Open will be played there in June, or guests may choose to tee up alongside legends like Hale Irwin and Davis Love III – experiences that can be arranged for those looking for something even more tailor-made to their tastes.
The more traditional resort is more like a resort campus, with 784 rooms and suites, including the new Estate House, a 12,000-square-foot mansion originally built in the 1930s that exudes a Gatsby-esque elegance and style. On site, there are 10 restaurants – including Colorado's only Forbes Five Star and AAA Five Diamond Penrose Room – plus another 10 cafés and lounges; a Forbes Five Star spa; three golf courses; and award-winning tennis.
Yes, The Broadmoor is historic, legendary, famous – but this is a resort where "vacationers make their own history" with family, friends, and even people they work with. It's all about experiences, and The Broadmoor does not disappoint with its broad array of choices. You can go bowling at the bar in Play; browse the resort's impressive Western art collection (one of the largest in the world); throw tomahawks (outside); test your hand at falconry; attempt rock-climbing; and then there is the world-class fly fishing (a 10-year-old girl holds the present record for biggest trout). Check out Broadmoor Outfitters for all the fun Western things you can do here.
What was true in 1918 is still true today. Relaxed luxury mixed with Western hospitality is framed by scenic views and inspiring mountains. It is a destination that can arguably be called "The Most Unique Resort in the World."
On June 29, 2018, The Broadmoor will officially turn 100 years old. There will be fireworks and then the opening round of the U.S. Senior Open.
Early June will be a time for major celebrations as well, with a Centennial Weekend Celebration planned June 1-3. The weekend package, which is offered at $1,918 (double occupancy), includes such perks as a gala dinner, a welcome reception, and a Prohibition-era themed cocktail party.
An occasion this momentous is too big to limit to one weekend, so during each month of 2018, the resort will commemorate a specific era in its history with special events, activities, and packages. While activities may change, and more added, here's a monthly rundown of what to do "Where The West Begins":
Year-Long Broadmoor Centennial Package: Throughout 2018, there is a new Broadmoor Centennial Celebration Package. It includes Classic accommodations; a copy of "The Broadmoor Story" – a new pictorial history book; sparkling wine and a candy nut tin during the first night's turndown service; $60 breakfast credit per night; and suites available at 25 percent off published rates. Starting at $190 per person, per night based on double occupancy.
 January – The Early Years: Destined for Greatness: Larger than life men and women helped shape Colorado Springs in the latter part of the 19th century. The Broadmoor staff will share truths, myths, and urban legends throughout the month. Highlights: Art and history tours around the hotel, as well as the Legacy of Iceevent on January 20 honoring the history of The Broadmoor Ice Palace (now called The Broadmoor World Arena) and its place as the epicenter of skating in the West.
 February – Julie and Spencer Penrose's Love Story: An unusual meeting of the resort's founders and an unconventional proposal led to a shared vision of elegance and refinement. Highlights: Decadent Desserts and Wines for Two at the resort's most romantic restaurants.
March – Rocky Mountain Wellness: Spa and Wellness From The Beginning To Today: From one of the earliest spas for both men and women came a model of wellness that is an integral part of well-being today. Highlights: Women's Weekend of Wellness featuring keynote speaker Peggy Fleming, special 100-minute spa treatments all month long, and juicing classes led by Broadmoor chefs.
April – A Family Destination Throughout The Years: Six generations of guests have brought their families to The Broadmoor because it is a place that makes memories for a lifetime. Highlights: "Dive-in" movies at the resort's indoor pool and The Broadmoor's Easter programming including egg hunts, family brunches, and carnival games.
May – The Broadmoor: Gateway to the American West: From a winding road up a mountain and a lodge with unparalleled views to rustic cabins nestled in the pines, Mr. Penrose envisioned more than a resort, but a destination to celebrate American West. Highlights: Smoking and BBQ classes taught by The Broadmoor's master chefs, with a tribute to Colorado mountain cuisine; history lectures from the resort's historian on the resort's fascinating Wilderness Properties; and the new Ultimate Colorado Adventure Package – a seven-day escape in the wilderness.
June – A Destination Realized: The Grande Dame Opens: When the doors officially opened June 29, 1918, the world was introduced to the jewel of the Rocky Mountains. The rest, as they say, is history. Highlights: Centennial Weekend Celebration June 1-3, including a special gala dinner, dancing, entertainment, and Prohibition-era cocktails; the U.S. Senior Open June 25-July 1; and a June 29 fireworks extravaganza.
July – Celebrating 100 Years of Golf Excellence: From the first golf tournament July 1, 1918, to today, legends have played and history has been made on The Broadmoor's historic links. Highlights: The Broadmoor Invitation July 22-27, and all month golfers will enjoy a special "19th hole" menu at The Grille.
August – Designing The Broadmoor Gardens: Spencer Penrose knew that a great resort should have only the best gardens surrounding it. Today, the legacy of the Olmsted brothers is everywhere to be seen and appreciated. Highlights: Special gardening master classes taught by the resort's master gardener, farm and greenhouse tours led by Broadmoor chefs and the resort's horticulturist, plus walking tours of the grounds.
September – The Season of Authentic Colorado Adventure: Marvel at the views. Ride through the shimmering gold aspen leaves. Learn why, no matter how far Spencer and Julie Penrose traveled around the world, their true pleasure was in the shadow of the Rocky Mountains. Highlights: Falconry, zip lining, and fly-fishing lessons.
October – Season of Harvest: Farm-to-table is nothing new to The Broadmoor. From the beginning, locally grown ingredients have always been a part of its culinary heritage. Every day is a celebration of fresh ideas. Highlights: Five course Fall Harvest Dinner and Broadmoor farm tours.
 November – Holidays at The Broadmoor: From festive lights and dining delights to enchanting music and eyes filled with wonder, The Broadmoor is pure magic at holiday time. Highlights: Holiday entertaining classes, the construction of a gingerbread replica of Broadmoor Main, as well as November Veteran's Day celebrations, including a Military Appreciation Gala.
December – The Next Chapter: The Centennial and Beyond: While the resort pays tribute to where it came from, the true excitement is in what the future holds as The Broadmoor sets its sights firmly on the next 100 years. Highlights: The Broadmoor holiday shows and other holiday programming.