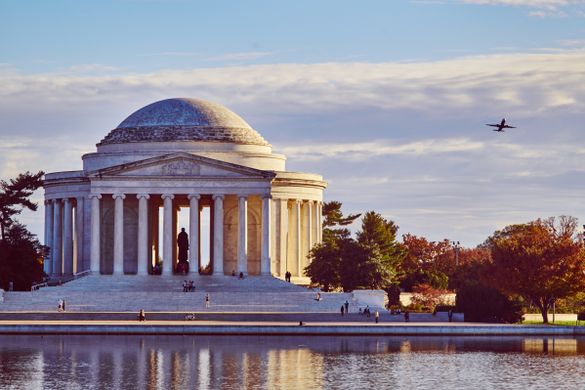 Destination DC sta collaborando con Cathay Pacific Airways per il collegamento diretto tra Hong Kong e Washington che inizierà il 16 settembre 2018. Il volo sarà quadrisettimanale: il martedì/mercoledì/venerdì e domenica con A350-1000.
(Washington, DC) – Destination DC (DDC), the official marketing organization for Washington, DC, is proud to collaborate with Cathay Pacific Airways and Washington Dulles International Airport on the new nonstop service from Dulles International Airport to Hong Kong beginning September 16, 2018.
"In Washington, DC, we are happy to host millions of tourists every year, and with the addition of these nonstop flights, we look forward to welcoming more travelers and business from Hong Kong and across Asia," said Washington, DC, Mayor Muriel Bowser. "Tourism plays a vital role in supporting local businesses and creating jobs for our residents, and it has helped make DC's economy one of the strongest local economies in the country. These flights are a tremendous opportunity to build on our progress and expand our reputation as one of the greatest cities in the world."
"Asian visitation to the District increased six percent in 2016 over 2015, accounting for 32 percent of the District's overseas visitors," said Elliott L. Ferguson II, president and CEO of DDC. "We're excited about the potential for increased business and leisure travelers from Hong Kong and the Asian-Pacific region including China and India to the nation's capital. Visitors will be able to experience all the free attractions, diverse neighborhoods and incredible dining that make Washington, DC a world-class destination."
"Cathay Pacific's new service between Washington, DC, and Hong Kong continues to improve the diversity of choice, worldwide connectivity and overall experience for travelers at Dulles International Airport," said Mike Stewart, vice president and Washington Dulles International Airport manager.
Using Cathay Pacific's new Airbus A350-1000, it will be the longest nonstop air route to both Hong Kong and the Washington, DC region. CX861 will depart Washington, DC, on Tuesday, Wednesday, Friday and Sunday mornings at 1:15 a.m., arriving in Hong Kong the following day at 5:10 a.m. This early morning arrival allows passengers to connect with every Cathay Pacific flight across Asia—including Singapore, Bangkok, Kuala Lumpur, Jakarta and over 22 gateways in mainland China—without a lengthy layover in Hong Kong. The return flight, CX860, will depart Hong Kong at 6:35 p.m. (local time) on Monday, Tuesday, Thursday and Saturday, arriving in Washington, DC, at 10:20 p.m. (same day).
About Destination DC
Destination DC, the official destination marketing organization for the nation's capital, is a private, non-profit membership organization of 1,000 businesses committed to marketing the area as a premier global convention, tourism and special events destination with a special emphasis on the arts, cultural and historic communities. washington.org.
About the Metropolitan Washington Airports Authority
The Metropolitan Washington Airports Authority operates the U.S. Capital Region's gateways to the nation and the world, Ronald Reagan Washington National Airport and Washington Dulles International Airport, as well as the Dulles Airport Access Highway, the Dulles Toll Road and construction of the Silver Line project, a 23-mile extension of the Metrorail public transit system through northern Virginia. More than 45 million passengers a year pass through the two airports.
About Cathay Pacific
Cathay Pacific Airways offers over 100 flights per week to Hong Kong and beyond, including over 22 destinations in Mainland China, from six cities in the USA and two in Canada: Boston, Chicago, Los Angeles, New York (JFK), Newark Liberty, San Francisco, Vancouver and Toronto. For more information, including current fares and availability, visit us online, on Facebook, Twitter or Instagram. For North American reservations, dial toll-free: 1-888-233-ASIA.