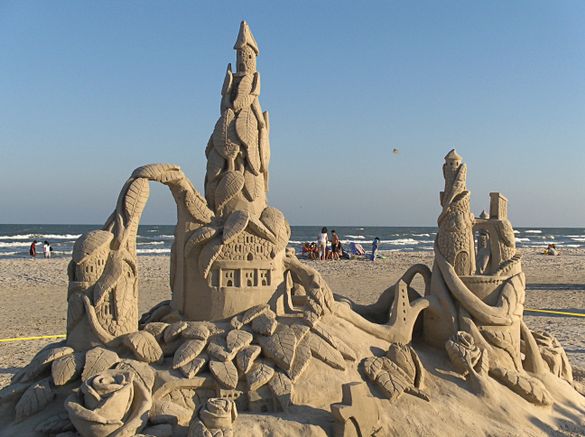 ---
(Port Aransas, TX)  The 21st Annual Texas SandFest drew record crowds during the three-day festival, April 21-23, in Port Aransas, Texas.
Texas SandFest is one of the largest master sand sculpting competitions in the United States. The invitational event attracts master sand sculptors from around the world. Each year, tens of thousands of visitors attend this family-friendly event in Port Aransas. Sand sculpting contests and lessons are the highlight of the festival.
This year's first place winners in the Master Solo and Master Duo competitions are from the Netherlands. Joris Kivits won the Master Solo competition, and Wilfred Stijgerand Edith van de Weteringreceived first place in the Master Duo competition. First place in the Advanced Amateur category went to Albert Lucio, Sr. from Corpus Christi, Texas.
Organized completely by volunteers, Texas SandFest is a nonprofit organization, supporting local organizations in Port Aransas and the Coastal Bend. In 2016, Texas SandFest gave over $130,000 to community organizations.
"We far surpassed our goal this year, allowing SandFest to give more back to the community than originally hoped," said Lisa Shelton, Texas SandFest Event Coordinator. "We had an extremely successful event this year."
The Port Aransas & Mustang Island Chamber of Commerce and Tourism Bureau is proud to be a community partner and sponsor of this event. "The SandFest event has become a national and international success, and this is a direct reflection of the outstanding leadership of the SandFest Committee," said Jeff Hentz, President and CEO of the Port Aransas & Mustang Island Chamber of Commerce and Tourism Bureau.
Next year's Texas SandFest will be held April 27-29, 2018 in Port Aransas. For more information, visit www.texassandfest.org.
For listings of island accommodations, restaurants, shopping and activities, visit www.portaransas.org. Download the Visit Port Aransas & Mustang Islandmobile app to help you plan the perfect island vacation.
Discover the original ISLAND LIFE destination – Port Aransas & Mustang Island. The Port Aransas & Mustang Island Chamber of Commerce and Tourism Bureau is the one-stop information planning source for all travel trade and media professionals. Experience our 18 miles of wide, sandy beaches, world class watersport activities, sport fishing, kayaking, nature preserves, championship golf, and more. Port A is famous for nightlife and endless varieties of food, entertainment and great shopping. Accommodations for all lifestyles and budgets include hotels, vacation homes, condos, cottages, and RV parks.