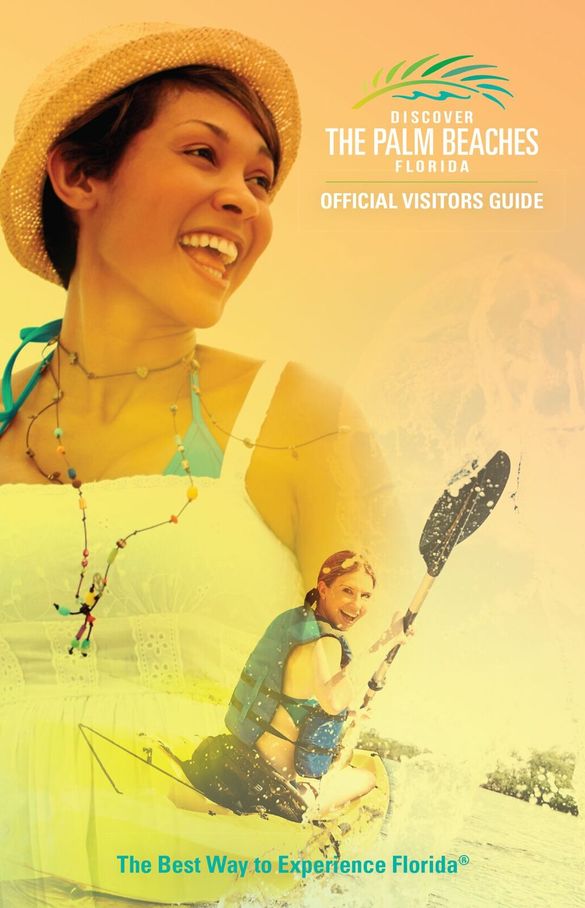 WEST PALM BEACH, Fla. (Mar. 29, 2018) – The award-winning Visitors Guide and Meeting Planners Guide by Discover The Palm Beaches (DTPB), the official tourism marketing organization for Palm Beach County, have been updated for 2018. Visitors can choose between ordering a free printed version of either by mail, or by downloading an electronic version online.
The new version of the Visitors Guide separates the destination into distinct regions: North, Central, South and Glades. It also offers more detailed city guides, compelling imagery and recommendations for things to do, as well as places to stay.
"Since the inception of our official Visitors Guide in 2016, nearly 100,000 have been distributed," said Jorge Pesquera, president and CEO for DTPB. "We're hoping this high-quality resource for potential visitors will continue to entice even more people to travel to our destination."
The purpose of the guide is to put the destination at visitors' fingertips, with access to an enhanced fold-out map that can be easily removed from the booklet, travel tips, local savings packages, up-to-date information and hyper-local recommendations. Some of the sections included in the Subject Directory are as follows: "Accommodations," "Attractions," "Beaches & Parks," "Culture," "Eco Attractions & Tours," "Restaurants & Nightlife," "Shopping," "Sports" and "Wildlife Viewing."
Dropbox link to download this image of the Visitors Guide here: https://www.dropbox.com/s/bs1sdaq7c4btqkt/Discover_The_Palm_Beaches_Visitors_Guide_2018.jpg?dl=0
The new version of the Meeting Planners Guide highlights accessibility to the destination, convention districts, offsite venues and hotels with meeting space. The cover showcases an infographic filled with helpful, meetings-specific data, which planners will find useful.
"This newly-rebooted Meeting Planners Guide is an exceptional resource that highlights the destination attributes while addressing the practical needs of meeting planners," explained Pesquera. "We crafted this comprehensive guide to inspire and persuade those who are interested in hosting events or conventions that The Palm Beaches are the best place to meet in Florida."
DTPB once again partnered with Passport Publications & Media, the publisher for the print guidebook, to bring the two guides to fruition. Last year, DTPB won a Silver Award for "Best Visitor Publication" for the 2017 edition from the Florida Magazine Association in the 2017 Charlie Awards. The 2016 edition won a Silver Award for "Best New Magazine."
Dropbox link to download this image of the Meeting Planners Guide here:
https://www.dropbox.com/s/0y9myfze5is8wwb/Meeting%20Planners%20Guide%202018.jpg?dl=0
Discover more about The Palm Beaches at www.ThePalmBeaches.com. Follow @PalmBeachesFL on Facebook, Instagram and Twitter.
About Discover The Palm Beaches
Discover The Palm Beaches, formerly the Palm Beach County Convention and Visitors Bureau, is the official tourism marketing corporation that promotes the collection of 39 cities and towns commonly referred to as "The Palm Beaches," which spans more than 2,300 square miles and 47 miles of pristine, golden beaches from Boca Raton to Jupiter and Tequesta. Tourism is among Palm Beach County's major industries, generating $4.7 billion in direct visitor spending and supporting 70,000 jobs with an economic impact of about $7 billion. Once recognized as a tropical escape for elite travelers in the late 1800s, America's First Resort Destination® is making its resurgence as The Best Way To Experience Florida®, welcoming a record-breaking 7.89 million people in 2017. The Palm Beaches are home to nearly 17,000 hotel rooms, ranging from historic resorts to boutique inns. The destination features more than 100 family-friendly attractions, world-class luxury and antique shopping experiences, 125 miles of peaceful waterways for on- or in-the-water activities, more than 150 artificial reefs that line the Atlantic Ocean's Gulf Stream current, 160 golf courses, award-winning restaurants and a thriving entertainment scene boasting more than 200 art and culture organizations.
Situated along I-95, The Palm Beaches are also home to Palm Beach International Airport (PBI), with more than 200 daily direct flights to 27 domestic and international destinations in the United States and Canada. The Palm Beaches are also conveniently located next to Fort Lauderdale-Hollywood and Miami International airports, each one only an hour away. In addition, with the new Brightline train, transportation into The Palm Beaches from Fort Lauderdale is even faster and more convenient – with connections to Miami and Orlando coming soon.
For more information about The Palm Beaches, visit www.ThePalmBeaches.comand connect on social media via Facebook, Twitter and Instagram@PalmBeachesFL, YouTube at Discover The Palm Beaches and the hashtag #ThePalmBeaches. Tune-in to The Palm Beaches TV for 24/7 streaming content of the destination's hotels, attractions, restaurants and experiences.