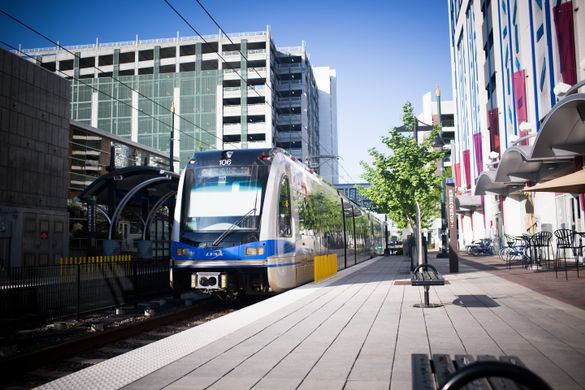 What's new in Charlotte, North Carolina this spring
---
CHARLOTTE, N.C. (March 26, 2018) – Charlotte may just be on the cusp of its breakout moment, according to Food & Wine. Unabashedly, we think the city has been the South's best hidden gem. Charlotte's thriving banking economy and outdoor amenities attract droves of residents—not to mention all their friends and family. Touting $6.7 billion in visitor spending in 2016, Mecklenburg County is the Carolina's leading tourism hot spot. Our secret? A premier hotel development market with names like Kimpton and Grand Bohemian in the heart of Center City. Visitors can experience uncapped accessibility to restaurants, entertainment and a flourishing craft beer scene thanks to an ongoing light rail project. And they'll also find an inclusive attitude that celebrates African-American chefs who are culinary leaders in Charlotte's innovative food culture.
MORE ROOM AT THE INN
Approximately 7,600 new hotel rooms are slated for the Charlotte region through 2020. In 2018, 17 hotels, a total of 1,907 rooms, are projected to open; these include the 300-room dual-branded AC Hotel and Residence Inn Charlotte City Center in Uptown and a 123-room Holiday Inn Express & Suites in South End. In 2019, Center City's Stonewall Station project will welcome two 181-room hotels—a Home2 Suites by Hilton and an EVEN Hotel. And slated for early 2020 is the 254-room Grand Bohemian Charlotte, which is slated to break ground this quarter.
Kimpton Tryon Park Hotel
Open since November 2017, Kimpton Tryon Park Hotel features a unique modern design steeped in Southern traditions across its 217 rooms, including 14 suites and 31 connecting rooms. Guests will discover amenities like Angeline's, an Italian-inspired modern American restaurant; Merchant & Trade, an indoor/outdoor rooftop lounge offering stunning views of Uptown; a 1,100-square-foot fitness center with an outdoor yoga deck; and 13,000 square feet of meeting and event space.
AC Hotel Charlotte City Center
AC Hotel Charlotte City Center, slated to open this spring, will occupy floors five through 12 atop the EpiCentre, Uptown's nightlife and entertainment hot spot. Part of the 22-story dual-branded AC Hotel and Residence Inn Charlotte City Center, this boutique hotel includes simple yet sophisticated rooms and suites, a 2,500-square-foot fitness center, European-inspired cuisine at AC Kitchen, craft beer and cocktails at AC Lounge, the peaceful AC Library and all the necessities at AC Store. Plus, the hotels will share 2,850 square feet of meeting and event space with integrated technology.
Residence Inn Charlotte City Center
Also to open this spring is the 116-room extended stay-style Residence Inn Charlotte City Center, which will occupy floors 14 to 21 of the dual-branded AC Hotel and Residence Inn Charlotte City Center. All rooms will include a kitchen and living area. Separate from both hotels, the 22nd floor of the tower will include a 1,350-square-foot penthouse suite available for rent through McKibbon Hospitality and an independent rooftop bar and restaurant, Nuvole Rooftop TwentyTwo. Peter Pollay, founder of Mandara Hospitality Group and executive chef of Posana in downtown Asheville, North Carolina, is the food and beverage consultant for Nuvole Rooftop TwentyTwo. Both the rooftop bar and restaurant and the penthouse suite will open a few weeks after the hotels.
Holiday Inn Express & Suites
At the corner of South Tryon Street and West Kingston Avenue, this 123-room suite-style hotel brings much needed accommodation options to the burgeoning South End neighborhood. Opening midway through 2018, the hotel features meeting space for up to 125 people, 4,500 square feet of retail and restaurant space, and a second-floor terrace.
CATCHING THE LIGHT RAIL AND A BITE
Charlotte's LYNX Blue Line light rail extension (BLE) opened the same day Spectrum Center hosted the NCAA basketball tournament. The BLE adds 11 stops and 9.3 miles to its current footprint, connecting the University of North Carolina at Charlotte to South Charlotte. While the city's overall culinary scene has exploded with notable additions, including Zeppelin and The Suffolk Punch, the BLE has facilitated the development of a corridor of restaurants, breweries and other watering holes best explored by rail. Notable stations include New Bern, Bland and 36th Street.
New Bern
Restaurants: The Suffolk Punch featuring Hyde Brewing
Breweries: Triple C Brewing Co. and Lenny Boy Brewing Co.
Bland
Restaurants: Futo Buta, Price's Chicken Coop
Breweries & Bars: The Gin Mill, The Brass Tap, Wooden Robot Brewery
36th Street Station
Restaurants: Haberdish, Davidson Street Public House, Cabo Fish Taco
Breweries & Bars: Salud Cerveceria, Heist Brewery
THE SOUL OF THE COMMUNITY
Over the past year, African-American chefs and restaurant owners have become voices of inclusivity in the Charlotte region's food community. At the same time, the city has experienced an uptick in events featuring restaurants owned by African-Americans. Examples include Soul Food Sessions, also recently touted by Food & Wine, Charlotte Black Restaurant Week and Black Food-Truck Fridays.
Soul Food Sessions
While chefs Gregory Collier (Rock Hill's The Yolk), Jamie Barnes (What the Fries), Jamie Suddoth (FS Food Group) and others continue to plate up some of the most celebrated dishes in the city, they've also been hosting a series of pop-up dinners called Soul Food Sessions since October 2016. Helmed by an all-black kitchen in locations throughout Charlotte, these charity-driven dinners invite attendees to experience African cuisine and black culture uninhibited. The most recent session was March 12 at 7th Street Public Market; more pop-up events will follow.
Charlotte Black Restaurant Week
From Oct. 16 to 22, 2017, the Queen City hosted the inaugural Charlotte Black Restaurant Week, which celebrated 21 black-owned eateries such as Mert's Heart & Soul and Sweetest Thing Bakery. This year's event, scheduled for Oct. 15 to 21, 2018, already has a number of restaurants on the books and will be preceded by a kick-off competition for Charlotte's Best Black Chef on Oct. 14.
Black Food-Truck Fridays
Black Food-Truck Fridays take place once a month at locations throughout Charlotte, many of whom participated in Charlotte Black Restaurant Week. (Three Spirits Brewery and The Doghouse Bar & Grill are among those.) The event shines the spotlight on talented tastemakers in the African-American community.
New in Charlotte is a regular update on tourism-related developments in the Charlotte metro area including hotel and venue construction, culinary accolades and openings, the city's major events, and upcoming attractions. Additional information about what's new in Charlotte can be found here and additional photos can be found here. Didn't find what you're looking for? Reach out to our team for more story ideas or visit charlottesgotalot.com/media.
Charlotte Regional Visitors Authority
The Charlotte Regional Visitors Authority (CRVA) works to deliver experiences that uniquely enrich the lives of our visitors and residents. Through leadership in destination development, marketing and venue management expertise, the CRVA leads efforts to maximize the region's economic potential through visitor spending, creating jobs and opportunities for the community. Brands supported by the CRVA include the Charlotte Convention Center, Spectrum Center, Bojangles' Coliseum, Ovens Auditorium, NASCAR Hall of Fame, Charlotte Regional Film Commission and Visit Charlotte in conjunction with the region's destination marketing brand. For more information, visit charlottesgotalot.com.